Trim Model
[learn_more caption="Prerequisites" state="open"]
D3Splint Version: v0.3.9 and later
Minimum Pre-Requisite Functions:  Mark Splint Margin
Recommended: No additional recommended pre-requisites
[/learn_more]
---
[learn_more caption="Basic Use" state="open"]
Trim Model uses the Splint Margin to trim away excess data from the Splint Model.  The resulting "Trimmed Model" is used as the scaffold on which to place virtual wax and create the Splint Shell.  After the operator is complete (~10 seconds), the Trimmed Model will be visible.  If the result is as desired, proceed to Splint Shell.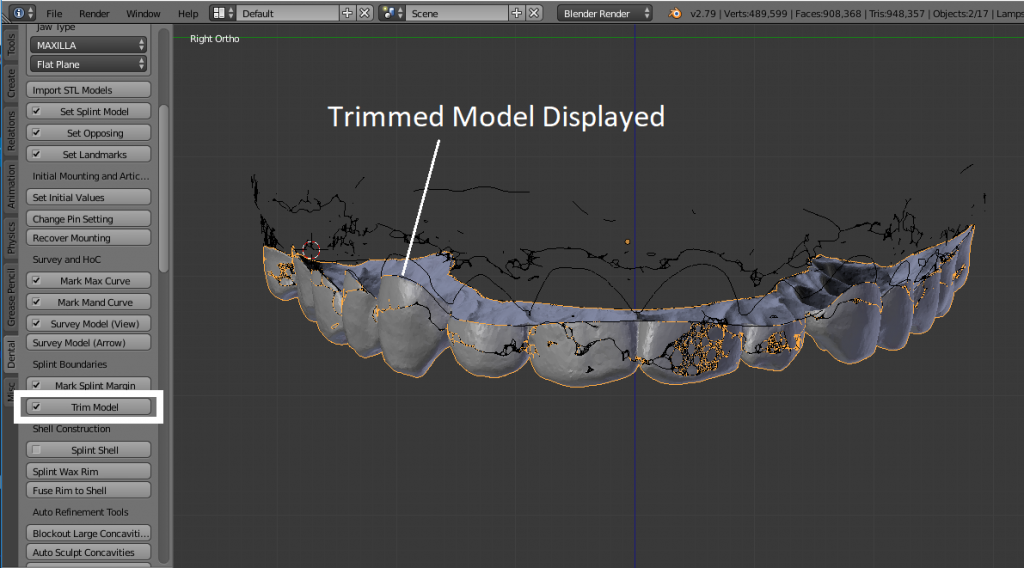 Re-Trimming after Altering the Margin
It is fairly easy to make adjustments to the Trimmed Model.  Simply press "Mark Splint Margin" again, and you will be put back into the Margin Marking mode and all the existing points will be visible and able to be adjusted, new points added or points removed.  You can then press "Trim Model" again and it will re-calulated the Trimmed Model.
Lingual Irregularities
Lingual irregularities in the Trimmed Model is the most commonly experienced unexpected behavior so much so that it gets a mention in the basic use, not in the Known Issues.  If the buccal/facial margin is marked significantly incisally compared to the lingual/palatal margin, it can cause the cut to "skim" concavities and create coves and voids.  Here is an exagerated example.

Some irregularities are compensated for by the cutting algorithm.  Here I have unhidden the surface which is used to cut the Splint Model.  You can see there are several places that could have caused voids which are compensated for.  However "coves" which touch the margin are not handled correctly.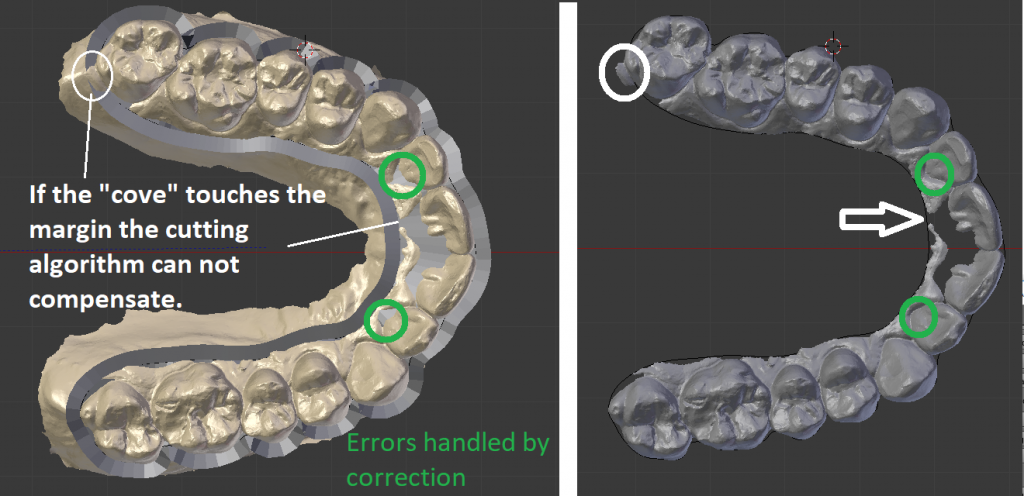 This can be "reconciled" by moving the facial margin more gingivally.  This is certainly not ideal and the clinical result should never be compromised because of the tool/technology.  Improving cutting behavior and making it more flexible is a top priority.  Mark Splint Margin move the margin near the incisors more gingivally, and then run "Trim Model" again.  Below the improved result is visible.

,[/learn_more]
[learn_more caption="Advanced Use/Information"]
[/learn_more]
[learn_more caption="Known Issues"]
Does not Handle all Cut Strategies Well
Aside form the most common unexpected behavior mentioned above, the biggest problem is that the margin cut assumes a traditional, symmetric, horseshoe shaped margin on the facial and lingual.  For example a "palatal only" style cut (eg, for a flipper) does not behave well.

[/learn_more]