Description
This is an accelerated .STL file importer addon available for Blender 2.79 and blender 2.82.  It is almost 3 times faster than the standard Blender importer and even the MeshMixer STL import. If you are ready to get to your work faster, or doing a high volume of imports then this is for you.
Performance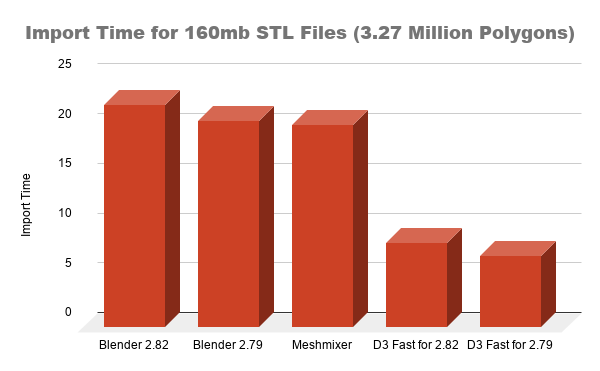 Chart showing default importer speeds compared to the D3 Fast STL Import addon (lower is better).  You can see all the testing data here

Installation
The addon is downloaded as a .zip folder and installed like a regular addon for Blender.  An instructional video and written instructions are included with the purchase.  You can pre-order now and downloads and video will be available 6/15/2020.
Nitty Gritty Technical Details
If you are a non dental or more technical user looking at this, the accelerations are numpy based and require no special libraries or building.  The importer only accepts binary files and custom normals are ignored as they are almost never used in dental scans.
Blender Foundation Support
30% of revenue from this addon go to the Blender Foundation and will be targeted toward further improving the import and export functions.  There is currently a GSoC project aimed at accelerating imports and exports.  Often after CSoC code is complete, it takes a bit of developer time to actually merge the branch into official Blender.  This donation will be designated for that!  If you want to support the Blender Foundation further, buy it twice and in the memo we will donate 100% of your 2nd purchase.