Step One: Occlusal Splints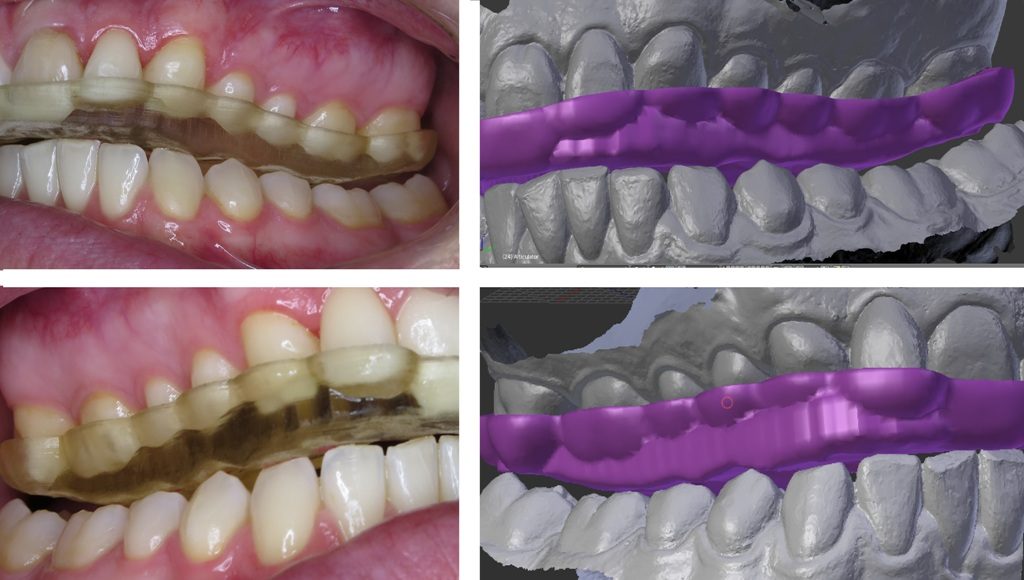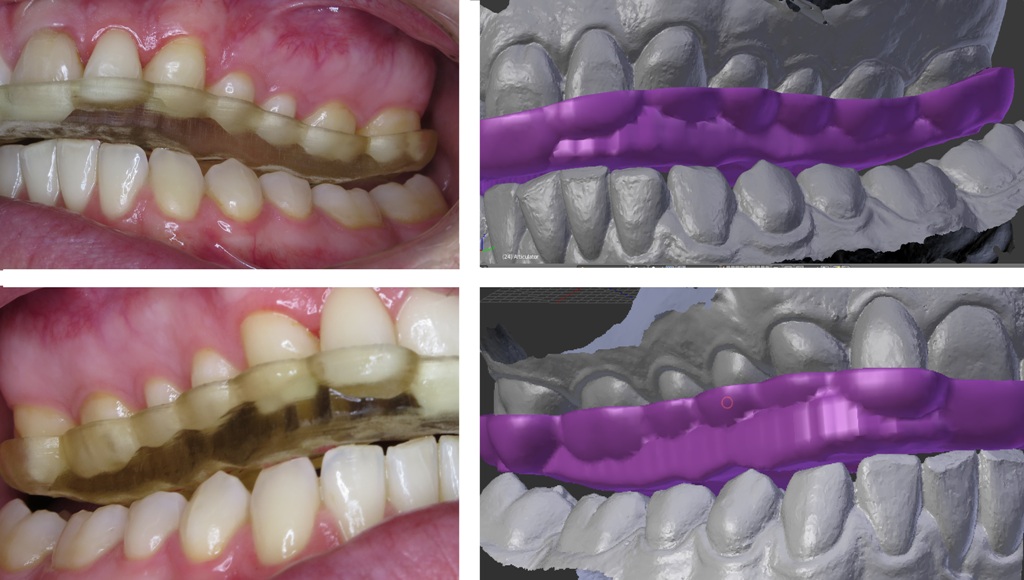 [et_pb_section bb_built="1″ _builder_version="3.0.47″ next_background_color="#000000″][et_pb_row _builder_version="3.0.76″ background_size="initial" background_position="top_left" background_repeat="repeat" _i="0″ _address="0.0″][et_pb_column type="4_4″][et_pb_text _builder_version="3.0.106″ background_layout="light"]
What can I do with D3Tool right now?
Make a great occlusal splint. While the long term vision of D3Tool is a more general purpose and open platform for dental CAD tasks, the clear goal for today is a simple, effective and low cost occlusal splint module. The resins are there, the printers are there, but until now, the CAD is not there unless you are willing to dive into the professional dental CAD packages. It's a wide open hole! This is why splints and guards have been the aim for an initial release.
What is the workflow?
This is best demonstrated with a time-lapse. Right now, a simple guard for a reasonably normal occlusal scheme should take about 10 minutes. Our goal as we refine the workflow is a 3 minute design that has full control over the occlusal scheme (guidance, excursions, disclusion, balance etc).
How are the fits?
So good I'm a little nervous. My initial test of about 6 guards have all fit the teeth well with no internal adjustments. I attribute the excellent fits to the quality of the input data and the quality of current desktop 3d printing technology. From a CAD point of view, the concept of fit is simple. Subtract the teeth from the desired outer shape with a small offset. So if the input data is good, and the manufacturing is good, then not much refinement is needed other than choosing your offset.
[/et_pb_text][et_pb_text _builder_version="3.0.106″ background_layout="light"]
[/et_pb_text][et_pb_text _builder_version="3.0.76″]
How is the occlusion?
Pretty darn good! The main limitation right now, is that the articulation simulations are dependent on the fidelity of the estimated parameters (condylar inclination, incisal guidance, Bennet angle, facebow mounting). The occlusal scheme seems to be on par as if you sent physical models to the lab, asked for an average value mounting on a semi-adjustable articulator. Below is a gallery of my first 4 test splints with no occlusal adjustment. There is no question that the MIP bite is as good as your bite registration. The excursions have been very close, but I can tell that in some cases, the average values have not matched the patient perfectly.
What are the next steps for D3Splint?
The tool is good, but it definitely has the potential to be excellent. In no particular order, the main developement goals to make this go from a beta to a polished module.
Make the splint perimeter defined on the buccal and palatal. [DONE]
Decrease the amount of sculpting needed, this is the current largest time commitment [IN PROGRESS]
Automatically generate a "relaxing ramp" that will allow posterior jaw movment [DONE]
Use of lateral and protrusive check bites to establish articulator values
Use an external Boolean engine to reduce errors in the final output step [IN PROGRESS]
Mandibular [DONE], maxillary [DONE], and dual arch [IN PROGRESS] workflows
[/et_pb_text][/et_pb_column][/et_pb_row][/et_pb_section][et_pb_section bb_built="1″ fullwidth="on" _builder_version="3.0.76″ prev_background_color="#000000″][et_pb_fullwidth_post_slider _builder_version="3.0.76″ box_shadow_horizontal="0px" box_shadow_vertical="0px" box_shadow_blur="10px" box_shadow_spread="0px" box_shadow_position="inner" box_shadow_color="rgba(0,0,0,0.1)" box_shadow_style="preset6″ /][/et_pb_section]